Every January since a few years, we have been reviewing our progress with Kune. It's nice now to have a look backwards to measure our progress in this big project.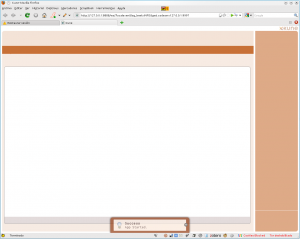 After big changes in our code dependencies (integrating Apache Wave, user interface, etc), in January 2011 we were in a rather heartbreaking state (see snapshot)…
…especially  seeing that in January 2009, there seemed to be much more progress (although without integrating Apache Wave, which still did not exist):
http://kune.ourproject.org/2009/01/status-jan09/
or even in January 2008:
http://kune.ourproject.org/2008/01/status-jan08/
Nowadays, we are closer and closer to a big release, entering finally in production stage. Today we can say Kune is a reality and, from our point of view, a game-changer. You can see Kune in action in this video:
Furthermore, nowadays you can try it, experiment with it, or install it in your own server. There are already three active instances of Kune:
What do you think about it? Please, drop your impression in the comments below! You can also contact us if you would like to collaborate in this project. In case you prefer to do an economic contribution rather that collaboration, feel free to donate to the project: Kune is a project supported by just a small community, with no sources of funding.